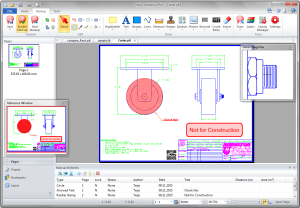 ViewCompanion Pro is a powerful, fast and user friendly multi-format file viewer.
ViewCompanion can view, print and convert Adobe PDF, Autodesk DWF, PLT, CGM, TIFF, CALS, PNG, HPGL/2 and many other formats.
Use ViewCompanion to convert your files into a number of different formats including PDF, PDF/A, DWF, DXF, TIFF, CALS, JPEG, PNG and HPGL/2.
Annotate your files using stamps, dimension lines, measurement areas, text, highlights, notes, symbols, pictures, revision clouds and more.
Batch convert and print of all supported formats are included.
ViewCompanion Pro can combine and spilt PDF files.