ViewCompanion Pro is a feature-rich, but still easy to use, application for viewing, printing, annotating and converting many different file formats, including Adobe PDF, Autodesk DWF, PLT, CGM, TIFF, Calcomp, CALS, JPEG and PNG. Several other formats are supported and you will find a complete list of all these formats below.
Convert your files into formats like PDF, PDF/A, DWF, DXF, CALS, TIFF, PNG and more. Please see the complete list of supported output formats. You may use ViewCompanion to convert PLT, CGM and DWF files into Autodesk DXF format, which you can open in any major CAD application.
ViewCompanion can merge multiple files of different formats into a single multi-page PDF, TIFF or DWF file. ViewCompanion includes batch conversion of all supported formats.
Markup and Annotation
With ViewCompanion Pro you may add markup to the loaded file, a process also commonly known as annotation. The range of supported annotation elements includes stamps, text, symbols, dimension lines, area measurements, rectangles, circles, lines, polygons, arrows and pictures. You may use one of the predefined stamps, or create your own.
User defined symbol libraries makes it easy to add frequently used symbols as markups.
All markup elements are stored in a separate file and the original file will not be modified.
The user can control if the markup should be included or not, when a file is printed or converted.

Measure and Takeoff
With ViewCompanion you can do accurate distance and area measurements using snap to drawing geometry. Calibration of the measurement tools is available to provide correct results even if your drawings are not in the correct scale. The measurement tools may be used to do quantity and measurement takeoffs, and the results can be exported to for example Excel.
Printing
ViewCompanion have complete printing support and includes batch printing, n-up printing and poster printing. Print your documents scaled or fit to page. Add custom watermark, banner, header and footer to the printed document. Print whole document or only the displayed portion.
Read more about printing.
Viewing
ViewCompanion will let you view your files fast and accurate. You have full control of zoom and pan by using mouse and keyboard. You will also find advanced viewing functions such as magnifier, overview window, compare, rotate and mirror. You may toggle between monochrome, color and grayscale view modes.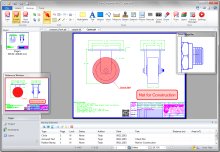 ViewCompanion Pro screenshot, click the image to see more screenshots in full size.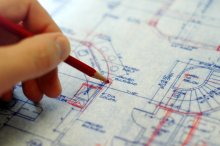 Markup your files with ViewCompanion.
---
View, markup, convert and print files of different formats.
Convert your files to a large number of standard formats; see below for a list of all supported formats.
Batch print and batch convert.
Open files directly from a ZIP archive.
Add footer and header information containing date, scale, time and filename to the printed sheets.
Color or Black & White Printing.
Add watermark using text or a raster image to a sheet.
Scaled print or fit to paper.
Poster mode for printing big format drawings on multiple sheets, for example to print an A0 drawing in full size using multiple A4 sheets.
Print in n-up mode, also known as multiple pages per sheet printing.
Print to all Windows supported plotter and printer devices.
Add markup using text, images, polygons, symbols, stamps, dimension lines, measurement areas and more.
Include markups during printing and conversion.
Merge different files of all supported formats into a single multipage file (PDF, TIFF or DWF).
Split a multipage file into smaller files.
Shell Extension for easy access to functions inside Explorer Window and a full preview of the selected file.

Compare two files and visualize the differences.
Overlay up to 10 files and print as one drawing.
Create password protected DWF and PDF files.
Create your own pen table for full control of pen colors, styles and widths. Used during printing and conversion.
Precise distance and area measurement with snap to drawing geometry.
Use the mouse wheel for both zooming and panning.
Extensive set of command line parameters for conversion and printing.
Send a file directly to another person using E-Mail from within the program. If a markup file exists, it will be attached to the message.
Copy selected region to clipboard, and paste into another application.
Text search and extract.
Multiple Document Interface let you work with multiple files at once.
Store commonly used files in projects.
Easy to use installation and uninstallation software.
Choose between ribbon style or classic menu and toolbar based user interface.
Delete pages from files (e.g.: PDF, TIFF and DWF).
Import an file and append as a new page to the active file.
---
ViewCompanion Pro can open the following formats:
Adobe PDF
Autodesk DWF 2D
Autodesk DWFx 2D
BMP (Windows Bitmap format)
Calcomp Plotter Format
CALS type 1 and 2
CGM (Computer Graphics Metafile) 1
DCX (Multipage PCX)
ECW (Enhanced Compression Wavelet)
EDMICS C4 (Group 4 Tiled)
EMF (Windows Enhanced Metafile)
EMZ (Compressed Windows Enhanced Metafile)
Gerber RS-274D (Standard)

Gerber RS-274X (Extended)
Gerber X2
GIF
JPEG
JPEG2000
PCX (PC Paintbrush format)
PLT, HPGL, HPGL/2, HP-RTL and KIPGL files
PNG (Portable Network Graphics)
SFF (Structured Fax Format)
TGA (Truevision Targa)
TIFF (Tagged Image File Format) 2
WebP (Google Image Format for the WEB)
WMF (Windows Metafile)
Notes:
1. Supports CGM files using binary and clear text encoding. Supported profiles includes ATA, CALS, WEBCGM and CGM*PIP.
2. Supported TIFF compression methods: Uncompressed, Packbits, LZW, Inflate, CCITT G3 and G4.
If you have Microsoft Office1, or LibreOffice, installed you can open additional document formats:
Microsoft® Excel
Microsoft® PowerPoint
Microsoft® Word
OpenOffice Document Format
RTF (Rich Text Format)
Lotus Word Pro 2
Microsoft Visio 2
SVG (Scalable Vector Graphics) 2
WordPerfect 2
Notes:
1. Requires that Microsoft® Office 2007 or newer is installed.
2. Only supported if LibreOffice is installed.

---
ViewCompanion Pro can convert to the following formats:
All files can be converted into the following formats:

Adobe PDF
Adobe PDF/A
Autodesk DWF
AVI 1
CALS CCITT Group 4 Raster 2
GIF Graphics
HPGL-2
JPEG Graphics
JPEG2000 Graphics
Paintbrush PCX
Portable Network Graphics (PNG)
TIFF Raster 3
WebP
Windows Bitmap
Windows Enhanced Metafile
Windows Metafile

If the loaded file is a vector file you may convert it to the following additional formats:

Adobe Postscript®
Autodesk DXF
Computer Graphics Metafile (CGM Binary)
Gerber RS-274X
Scalable Vector Graphics

Vector files includes the following formats:

CGM, DWF, DWFx, HPGL/2, PLT, Gerber and Calcomp.

If you want to convert PDF files into a vector format, for example DXF, you will need the Premium edition.


Notes:
1. AVI files can be created by using the Movie Maker tool. This tool will let you add multiple files, of all the different formats ViewCompanion supports, to a movie.
Each page from the added files will be converted to a single frame in the movie.
2. MIL-PRF-28002B Type 1.
3. Supported compression methods for TIFF includes: CCITT-G3, CCITT-G4, LZW, and Packbits.
4. No additional applications or drivers are needed for conversion.