Combine or Merge PDF files
Combine or merge multiple PDF files into a single PDF
With ViewCompanion you can combine, or merge, your PDF files into a single PDF file.
Merging or combining PDF files is a versatile process that offers numerous advantages. By merging multiple PDF documents into a single, unified file, you can significantly enhance your document management experience.
One of the key benefits is improved organization. Instead of juggling multiple files, you'll have one cohesive document, streamlining your workflow and saving precious time.
Furthermore, merging PDFs preserves the integrity of your documents, ensuring that the original formatting, fonts, and images remain intact.
This is crucial for maintaining the professional appearance of reports, presentations, or contracts.
To merge PDF files with ViewCompanion, you can use the PDF Merge tool which can be found under the Tools tab.
Press the icon below to open the PDF merge dialog:

The following dialog will then appear: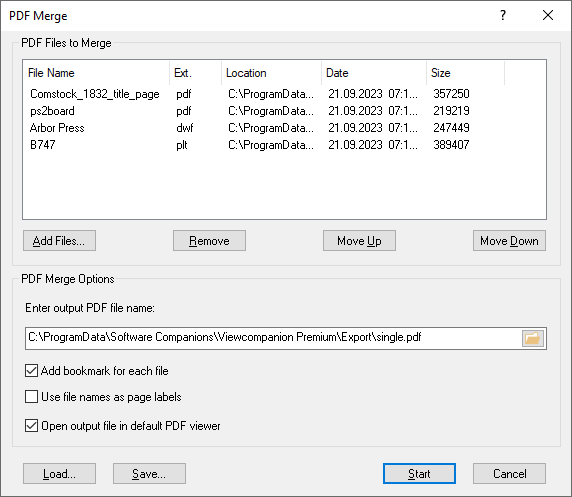 Add the files you want to combine into a single PDF file. You can even add other file formats to the file list, as shown in the picture above. These files will be automatically converted to PDF during the merging process.
If the Add Bookmark for each file option is enabled, the first page of each file will be listed as a bookmark, as shown below in Adobe Acrobat: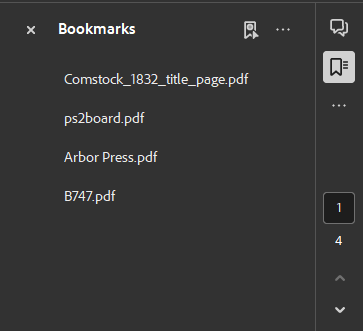 A consolidated PDF simplifies sharing and distribution. Whether you're emailing important documents or storing them in the cloud, a single file is far more convenient. In summary, merging PDF files boosts efficiency, maintains document quality, and simplifies document sharing.
It's an essential tool for both personal and professional tasks.
Experience the benefits today!
The PDF merge feature is available in two ViewCompanion editions: Pro and Premium.
The only difference is the number of file format each of them support.
Please look at the ViewCompanion File Format comparison chart for a list of the formats supported by each edition.
Please use the links below for detailed information about a specific edition:
Read more about ViewCompanion Pro
Read more about ViewCompanion Premium